We now offer in house handyman services as an addition to professional organizing at Cut the
Clutter. Our handyman service fees are $120/hour.
MAINTENANCE SERVICES:
We do the following maintenance services for our customers:
● Art Installation. Whether you need to display an old masterpiece, a contemporary
print, a mirror, or or something altogether exceptional our experts are ready to
mount and secure your products!
● Curtain and Blind Installation.
● TV installation. TV Wall Mounting. We recommend mounting your flat screen
television to the wall both for safety purposes and for more comfortable and better
viewing. Installing a TV. Wall-mounting a TV offers better viewing and more
comfortable viewing to users.
● Assembling furniture. Bedframes, dressers etc….
Disassembling furniture in advance of your move might be one of the difficulties that
come with moving regularly. Even something as straightforward as removing a bed
frame might take forever if you aren't equipped with the right equipment. We anticipate
before shifting to a new house.
Nobody likes to unpack before making repairs. Loose cabinet doors, holes inside the walls, furniture assembly, and outdated light fixtures all need more effort and occupy the valuable time. At Cut The Clutter,
Our handyman team offers prompt solutions and is very helpful so that you can concentrate on relocating
rather than leaving them for the future owners to handle. Enables you to concentrate on your task
You undoubtedly have a long list of obligations to attend to, so you cannot afford to lose
your time. Although you can do the tasks, your timetable is too rigid.
You may focus on the work and conserve energy by employing local handymen. This
helps in handling all your tasks while allowing you to focus on work.
Even though some handyman activities appear to be DIY projects, it is advisable to take
your talents and capabilities into account when you plan repair projects.
Let us help you bring harmony into your house by calling us right now with a free
consultation service. A competent handyman from Cut the Clutter may therefore be of
great assistance.
Frequently Asked Questions
Do I need tools or my handyman comes with them
No, you don't need to buy tools. Instead, your handyman should come with them to save you the headache. A good professional handyman with experience prepares adequately and carries along all the tools and equipment. Ensure you are precise as you give information, so the handyman knows what exactly to carry.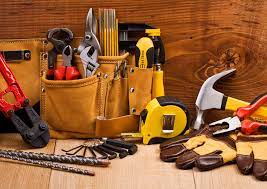 Can you possess handyman skills
Yes, you can possess handyman skills. While professionalism is highly recommended, individuals are encouraged to be knowledgeable with basic handyman skills. For example, be able to anchor a bookcase to a wall, fix a loose tile, caulk a sink or tub, unclog a drain, and change a shower head or any other light fixture.
Should I hire or employ a handyman
Hiring a handyman is cheaper than employing one. You are saved the burden of incurring the cost to pay a handyman. Plus, the damages do not occur daily, so you don't need the fixes or maintenance as well. Hiring lets you pay specifically for the activity done on a particular day.
So, Do You Need Handyman Services?
Handyman services cover a long list of professional services, and we inform you about the critical elements you need to consider. Compare the discussed factors against every handyman service to qualify as fit for the job.
Perhaps you're lucky to have the knowledge to make your repairs and ensure maintenance yourself, the better! You're going to save on cost but remember, a professional handyman service will make a difference with excellent service.
For further queries, contact us on (604) 316-0924 or info@cuttheclutter.ca for assistance. We cover the entire Vancouver BC.
Keep The Well Ordered In Order
After you're all moved in and also the house is clean and organized, make an effort to maintain it that way. Instead of walking by the messy places or mess in your living room, tidy them up as you go.
A new habit of keeping your home clean, clean as well as healthy and balanced additionally might keep your life more organized too.
Call us to get a totally free, no-obligation quote online, and see how Cut the Clutter Professional Organizers can help make your following relocation very easy and anxiety-free.